Subscribe to Poetry Cornwall/Bardhonyeth Kernow

Postal subscriptions £3.95 per issue or 3 issues over a year for:
UK £11
USA 35$
AUS 35$
ROW £15/€35
All subscriptions from ouside of the UK must be paid in sterling cheques or send cash in dollar bills. Thanks.
(It costs to much to change cheques sent in dollars.)
Please send your name, address, email and telephone number with your subscription/order to
Poetry Cornwall, 1 Station Hill, Redruth, Cornwall TR15 2PP
email: poetrycornwall@yahoo.com with any queries about subscriptions.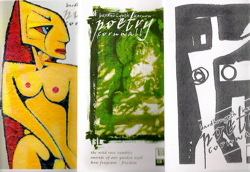 Exchange

We will happily exchange magazines
with other small press poetry magazine editors.

BOOK SERVICE

If you are having difficulty finding new or old books
by Cornish authors and poets, we may be able to help. Please send details with a SSAE to
Cornish Book Search,
1 Station Hill,
Redruth,
Cornwall
TR5 2PP

Please Note

All postal enquires must have a SSAE enclosed
(those with out SSAE will be recycled.)
I am happy to answer genuine enquires sent by email to:
poetrycornwall@yahoo.com

Back Issue Details

Please Note:
Issue Numbers 1 - 2 - 3 - 4 - 5 - 6 are sold out.
Issue Numbers 7 - 8 - 9 are available at £1 each.
Please order the specific number(s) you require from
Poetry Cornwall, 1 Station Hill, Redruth, Cornwall TR15 2PP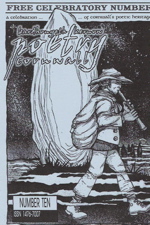 'FOR A LIMITED PERIOD WHILE STOCKS LAST'

Issue Number 10 (a 12 page celebratory issue is also available)
Send A5 size SAE with two loose first class stamps or 4 IRC's
and receive a free complimentary celebration issue.
Post to
PC/BK Offer, 1 Station Hill, Redruth, Cornwall, TR15 2PP UK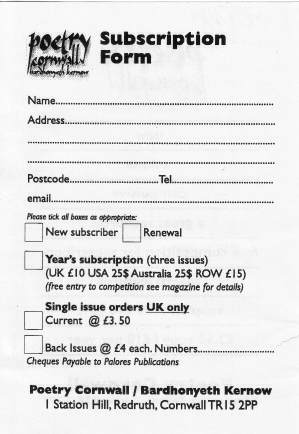 Please feel free to download this form (windows right click and select download image..mac, click on image and then select file save as)
Once downloaded, you can print it, complete it and send it in to us :-)